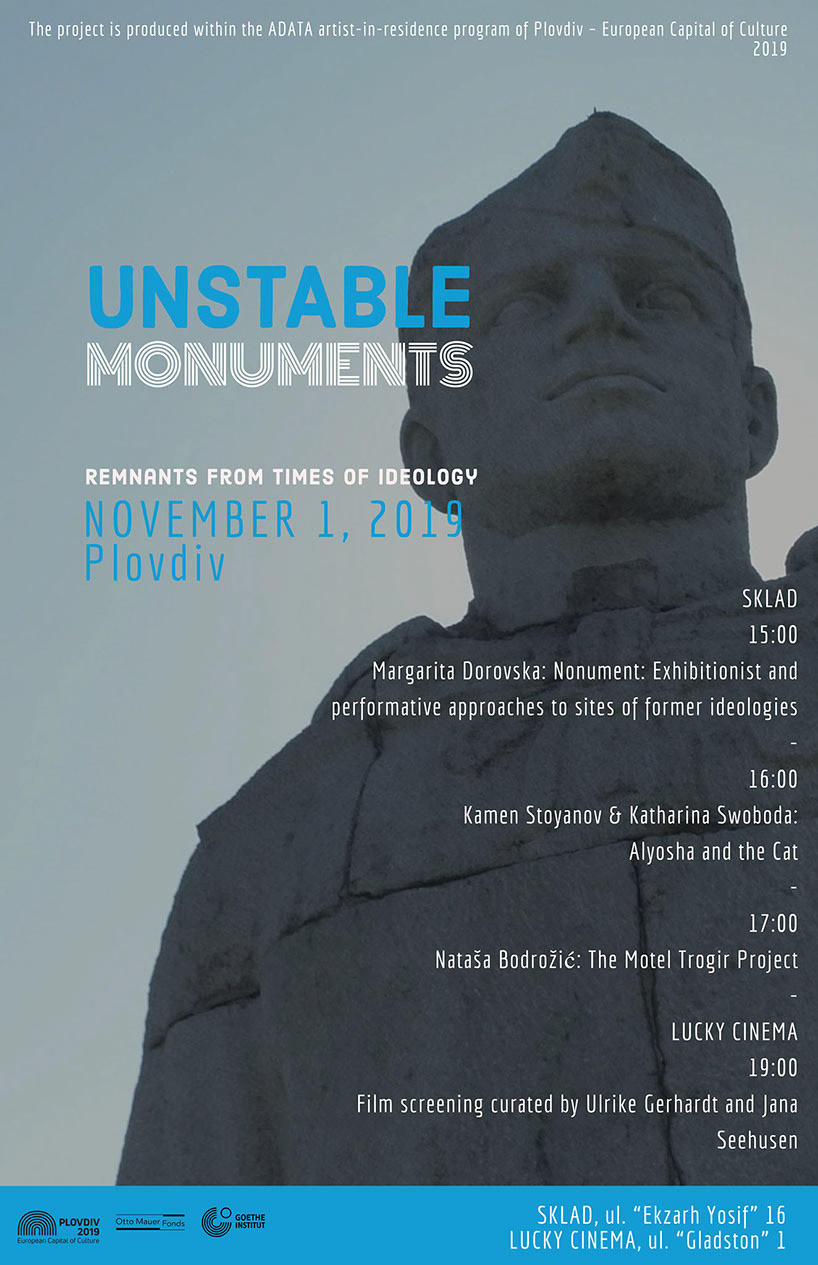 Unstable Monuments 
Remnants from Times of Ideology 
Symposium on November 1, 2019 in Plovdiv
The symposium "Unstable Monuments. Remnants from Times of Ideology" is dedicated to deconstruct and analyse todays meaning of monuments from the socialist era. The starting point is a short film by artists Kamen Stoyanov and Katharina Swoboda. It is about the (de)fictionalisation of the "Alyosha" figure in Plovdiv, Bulgaria. This monument is a vivid example of the entanglement of history and myth-making. Based on cultural theory thinking, the symposium aims to create space for a differentiated discussion about these monuments in cultural and aesthetic terms. www.alyosha.info

Time schedule:
SKLAD, "Ekzarh Yosif" 16, Plovdiv
15:00 Margarita Dorovska: Nonument: Exhibitionist and performative approaches to sites of former ideologies
16:00 Kamen Stoyanov and Katharina Swoboda: Alyosha and the Cat: A short film in the making 
17:00 Nataša Bodrožić: The Motel Trogir Project. Towards a New Heritage - Frictions and Crossovers. Towards a New Heritage. Frictions and Crossovers.
Lucky Cinema, ul. "Gladston" 1, Plovdiv
19:00 Short film program curated by Curated by Ulrike Gerhardt and Jana Seehusen.
D'EST: Alyosha and the Rose Queen – Gestures of De-Monumentality. 

Margarita Dorovska
NONUMENT 
Exhibitionist and performative approaches to sites of former ideologies
The neologism "nonument" refers to monuments that have transformed or lost their symbolic value due to changes in ideology. Formerly erected as sites of glorification and remembrance, today "nonuments" are often neglected. How to deal with these today? Following a survey on Bulgarian nonuments within the Eastern European platform
https://nonument.org
, Dorovska has recently curated the exhibition Nonument at the Museum of Humour and Satire in Gabrovo and commissioned the Nonument radioballet by LIGNA group and Stephan A. Shtereff held in front of the derelict House-Monument of the Bulgarian Communist Party.
https://biennial.humorhouse.bg/events/2019-09-13/nonument
Margarita Dorovska is director of the Museum of Humour and Satire in Gabrovo. She is also responsible for the Gabrovo Biennal. Her curatorial interests lie in the fields of public art and aesthetics of the comic. 

Kamen Stoyanov & Katharina Swoboda 
ALYOSHA AND THE CAT
Stoyanov and Swoboda talk about the motivation and process of the creation of the short film, which deals with the generally unknown aspects of the Alyosha monument. 
While on holiday with his girlfriend in Plovdiv, the writer Vasil has a deadline for a text. Instead of writing, his girlfriend convinces him to go for a walk in the city. They end up at Alyosha hill, where they encounter Russian tourists who bring flowers to the Alyosha monument. Vasil asks them, why exactly they bring flowers and a Russian girl sings the Russian Alyosha song to them. Vasil and his girlfriend respond with a new song, "The Aleksey Skurlatov" song, through which they tell the unknown story of the monument. In the end, Vasil leaves the location with a new story - the story of this encounter.
Kamen Stoyanov lives and works in Vienna and Sofia. He holds a diploma in painting from the National Art Academy Sofia and a diploma in Visual Arts and Cultural Studies from the Academy of Fine Arts Vienna. Kamen Stoyanov´s films, videos, actions, installations, photographic works and performances have been presented at many exhibitions festival and biennials worldwide.
www.kamenstoyanov.com
Katharina Swoboda Katharina Swoboda's work is predominantly video-based, but she works in photography, installation art and performance art always in relation to moving images, as well. She studied at the Academy of Fine Arts. Vienna and the University of Applied Arts Vienna.
www.katharinaswoboda.net 
Nataša Bodrožić
THE MOTEL TROGIR PROJECT: Towards a New Heritage. Frictions and Crossovers.
The Motel Trogir project was launched in 2013 by Loose Associations – the platform for contemporary art practices, and its associates as a civil campaign focused on the motel built in Trogir in 1965, designed by Ivan Vitić, one of the most prominent Croatian architects of the 20th century. Vitić's motel is a rare example of outstanding modernist architecture in Trogir, a mid-Dalmatian coastal town with approx. 13,000 permanent inhabitants. The project consists of many activities and has developed a specific methodology which can be described as a combination of civic activism and scientific, publishing and educational work, including curating and producing contemporary art projects.
https://moteltrogir.tumblr.com/
Nataša Bodrožić is a curator and cultural worker from Zagreb and Trogir, Croatia. She is the initiator and co-founder of the Motel Trogir project, as well as of Loose Associations, a contemporary art platform. A strong believer in collaborative creation, she (co)curated numerous exhibitions in Croatia and abroad, and co-edited several books in the field of contemporary art, cultural policy and heritage activism, such as "Politics of Feelings / Economies of Love" (2014), "Motel Trogir: It Is Not Future that Always Comes After" (2016), "Modelling Public Space(s) in Culture: Rethinking Institutional Practices in Culture and Historical (Dis) Continuities" (2018), "Consumer Culture Landscapes in Socialist Yugoslavia" (2018) etc.
Ulrike Gerhardt and Jana Seehusen
D'EST: Alyosha and the Rose Queen – Gestures of De-Monumentality
Video screening with works by: Tal Alperstein and Julia Turbahn, Gery Georgieva, Szabolcs KissPál, Ilona Németh, Eglė Rakauskaitė / Rakė and Adnan Softić. 
D'EST presents a video art program with selected works that are dedicated to an expanded, critical and performative perspective on monuments. Drawn from the D'EST platform and elsewere, these works showcase an artistic as well as civic reappropriation of the public sphere and aim to deconstruct the symbolic power of monuments through subtle gestures. 
More info about the program:
https://www.d-est.com/blog/dest-alyosha-and-the-rose-queen-gestures-of-de-monumentality/
Jana Seehusen's practice as an artist and writer focuses on modes of language and action in relation to concepts of in-betweenness, otherness, and transitionings. Her work in the field of art theory, aesthetic theory in film, and cultural studies relates to questions on in/visibility, subject and gender theory, and identity politics. Recent works include: Visualität und Abstraktion ([eng. Visuality and Abstraction], publication with Hanne Loreck, 2017) and Nature plays so many queer tricks upon us (performance with Katrin Mayer, 2019)
http://www.janaseehusen.com
Ulrike Gerhardt is the artistic director of D'EST (2018-2020), an online platform dedicated to video art from the former 'East' and 'West.' As a cultural studies scholar and curator, she is currently researching cultural memory concerning post-socialist transformation within the framework of her PhD project at Leuphana University Lüneburg.